Explore Jammu Province
---
See Jammu Pilgrimages

Explore Jammu Province
---
Reasi District
---
Reasi at a Glance
The name Reasi is derived from the town's old name "Rasyal". In the eighth century, Reasi was a part of the Bhimgarh state established by Bhim Dev. The erstwhile Bhimgarh State now called Reasi was established by Bhim Dev in the eighth century. Brief account of the successive rulers is known from 1652, when Hari Dev was the king of Jammu. In 1810, during the rule of Diwan Singh, Jammu was under turmoil. Maharaja Ranjit Singh sent Gulab Singh to take control. Gulab Singh came down heavily on the rebels and established the rule of law. After defeating the rebels in the Reasi area he handed over the administration to his trusted commander, General Zorawar Singh, when he became the King of Jammu in 1822.
The present day Reasi is a town and a district of Jammu and Kashmir. It is predominantly a hilly district surrounded in the east by district Udhampur west by Rajouri in the southern side by Jammu and in the north by Ramban while a part of Reasi is touching the boundaries of district Shopian on the northern fringes. Chenab is the major river flowing through the district while there are number of streams like Ans, Plassu, Ban Ganga etc. The Reasi city is situated at the bank of River Chenab and 24 Kms (appx.) from one of the most venerated Shrines of India situated in the Trikuta Hills and home of a number of famous pilgrimage sites.
More Information
| | |
| --- | --- |
| Altitude | 466 Mtrs. |
| Temperature | |
| Summer | 27.0°C |
| Winter | 0°C |
| Best Season | October to April (Summer Vacations also attract millions of Tourists) |
| Clothing | Summer: Light Cottons. Winter: Heavy/Medium wollens |
Getting There
---
How to reach Reasi City
Reasi is well connected by all three modes of transport i.e. air, rail and road.
By Air:
The nearest airport is situated at Jammu (72kms) and regular flights run between Jammu and several other cities of the country. All Airlines operate regular daily flights to Jammu connecting different cities.
By Rail:
Katra is the nearest railway station (24 kms) and is connected with important towns and cities of the country by express and super fast trains.
By Road:
One can also reach the city by road. Katra is the nearest major road head which is connected with major stations of North India. The connectivity between Reasi and Katra is smooth and frequency of road transport is also good.
Where to Stay
A number of hotels are available in Reasi suiting every pocket where as star category hotels are available in the nearest town of Reasi i.e. Katra.
What to see in Reasi District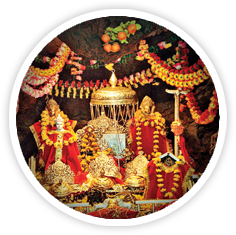 Mata Vaishno Devi Shrine
Vaishno Devi shrine is located in the lap of Trikuta hills which is 13 Kms from base camp Katra, which is one of the prominent town of District Reasi and 63 kms from Jammu city.The Shrine is famous pilgrimage centre in Jammu and Kashmir state. It is managed by Shri Mata Vaishno Devi Shrine Board since 1986. Million of Pilgrims from within and outside the country visit this holy place every year.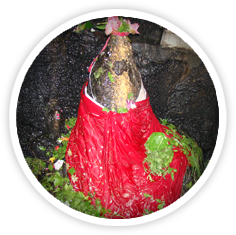 Shiv Khori (Ransoo)
Holy cave of Lord Shiva is situated at Shiv Khori (Ransoo). A large fair takes place on shivratri day which continues for three days. This Holy Cave attracts near about 20 lac pilgrims every year.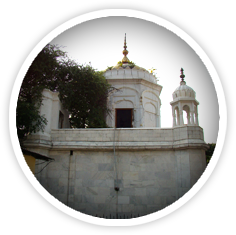 Dera Baba Banda Bahadur
Dera Baba banda is another place of the tourist attraction. Baba Banda Singh was a famous saint soldier of Guru Govind Singh. A Gurdwara on the bank of Chinab is reminding memories of his time. He spent his last days here. This place is considered as a major pilgrimage center for Hindus & Sikhs situated in Reasi tehsil of District Udhampur. People from outside state also come to this place for pilgrimage particularly on the festival of Baisakhi in the month of April every year.
Aghar Jitto
Baba Aghar Jitto a spiritual devotee of Shri Mata Vaishno Devi. A farmer sacrified his life for getting due right share of agriculture crop from Jagirdar Bir Singh who denied to give the committed share. This is why he scarified his life for getting his right & became famous among the farmers, have a attraction for yatries also. The statue of Baba Jitto is situated on the Reasi-Katra road.
The Bhimgarh Fort
This is an historical fort built by Gen. Zorawar Singh, the famous Dogra General who repelled the Chinese from Ladakh. The fort is built on the bank of River Anji at a hillock. It is also an attraction for the tourist visiting Reasi.
Adventure in Reasi
The gushing waters of mighty Chenab provides avenue for rafting to beginners. The Baradari river bank is promoted as rafting hub in the region where in a number of rafting operators are providing rafting joy rides to tourists throughout the year.
---
Other interesting places to visit
Nau-Pindian
About 3 kms further down the Katra-Reasi Road, on the banks of a pretty rivulet is the shrine of Nau Pindian. The Shrine houses naturally formed nine pindies symbolizing nine avtars of Mahashakti where visitors stop to pay obeisance.
---
USP:
The uniqueness ranges from holy cave shrines of Mata Vaishno Devi & Shiv Khori to White Water River Rafting which makes the District as an year bound destination.