Explore Jammu Province
---
See Jammu Pilgrimages

Explore Jammu Province
---
Kishtwar District
---
Kishtwar at a Glance
"The Land of Saffron and Sapphire "
KISHTWAR the land of Saffron and Sapphire is nestled in the lap of beautiful & Majestic "CHOWGAN" endowed with a high degree of Natural Beauty, crowned with Naginshiru" peak to its North and mighty river "CHENAB " under its feet. Existence of Kishtwar goes back to the period of Mahabharata time when it was called "LOHIT MANDAL" meaning the land of Saffron. According to some historians, it was previously called "KASHYAPWAS" meaning place of Kashyap Rishi. Kishtwar town has a great historic significance. It has remained the capital of Erstwhile Kishtwar State upto 1821 AD.

Kishtwar is the upland valley in Northeast corner of Jammu lies among the picturesque folds of the GREAT HIMALYAN Range. The area is drained by Chenab river system which is flowing from Himachal and enters the area at Padder. Kishtwar District is bounded on North by Kashmir & Zanskar, on South by Doda , the East by Himachal Pardesh and on the West by Anantnag & Ramban Districts.

Dacchan, Marwah,Wadwan, Padder &Chatroo are major valleys and Tourist Spots of Kishtwar, through these valleys the Internationally renowned Trans- Himalayan Treks are leading to Suru,Zanskar and Kashmir.
More Information
| | |
| --- | --- |
| Altitude | 1640 Mts. |
| | |
| Temperature | Max Min |
| Summer | 28.0C 16.0C |
| Winter | -2.0C 8.0C |
| Best Season | May to September |
| Clothing | Summer: Light Cottons. Winter: Heavy Clothing/Wollens to Full Warm |
How to reach Kishtwar
The Kishtwar Town being the District Headquarter is connected with rest of country with NH244.

By Air: The nearest airport is situated in Jammu (250-kms).

By Rail: The nearest Railhead is situated in Udhampur (180 Kms) & Jammu (248-km).

By Road: The road is constructed Anantnag via Sinthan Pass. Daily bus services and share Taxis are plying from Jammu & Other cities.
Getting There
---
Where to Stay:-
A number of Hotels & Guest Houses are available in Kishtwar Town suiting every ones Budget. Where as in peripheral valleys Guest Houses and Home stay is available for Tourists.
People, Culture and Lifestyle in Kishtwar
People in Kishtwar:
Kishtwar is home to people of diverse ethnic origins, ranging from Paharis, Kashmiri, Gujjar, Gaddi & Buddhists. The People are mostly Pleasant class in rural areas areas growing wheat, millet, rice, maize, vegitables, rajma, potato & fruits. The people of Mandal area (Villages near to Town) are Saffron growers, where as, in Cities mostly employed & business class people are residing. People speak languages of Kashmiri or Koshur , Urdu, Kishtwari, Hindi, Balti, Paddri, Pahari and Gojjri.
Culture & Life style in Kishtwar:
The culture and lifestyles of the people is simple with little diversity. Nomads settled here and have brought their traditional practices along with them. The culture exhibits distinct lines of demarcation as well as areas where influences merge and people today have developed tolerance as well as acceptance of Islam ,Hindu, Sikh, and Buddhist philosophies.
Modernity
is making inroads into the traditional practices and lifestyles of people especially youngsters. However, a walk through older portions and a visit to places not so open to modern values can get you glimpses to age old practices and traditions. A typical way of lifestyle is farming and raising their domestic animals.
The
Gaddi & Bakarwals,
a nomadic tribe, for instance, still follow age old practice of walking their herd of sheep from one pasture to the other, covering a distance more than 400 kilometers on foot each year.
Cuisine:
The town of Kishtwar serves up traditional Kashmiri & Jammu cuisine at its best. There are some restaurants which serve Chinese and North Indian Food both Vegetarian & Non- Vegetarian. There is a lot of use of fresh spices like cinnamon, saffron, cloves and cardamom (Kishtwar is known for its Saffron fields) so the food here has a rich aromatic flavor. If you want to opt for Kashmiri vegetarian dishes then try out
Aloo in yoghurt, Lotus root curry
, fried paneer in red sauce etc. In non vegetarian dishes (served only in a few restaurants) you will find Rogan Josht (tender leg of lamb), Rista, Yakhni , Tabak Maz and Chicken preparations. Kishtwar is famous for Local Rajma and rice, Gucchi Pulaow, Anar danay ki Chutney, Sticky white Meetha Bhaat and Kasrod. There are few traditional dishes like
Bhothray (Khamera) & Sabzi, Makki ki Roti & Sagg and Namkeen Chai with local Kulcha.
Chowgan
2 Km from main Bus Stand, an eye – captivating lush green natural ground about 65 hectares of Land is the heart of City. G T Vinge a Foreign Traveler mentioned it as the Replica of Bagdad or Heaven of Kishtwar. Presently it serves a playground for youngsters, a jogger park and a place to relax in hot & humid weather. Lofty and majestic CHINAR & PINE Trees add to the beauty of the CHOWGAN. Some of the Chinar are 250 years old.
Shrine of Shah Asrar ud Din (RA)
02 Km from Main Bus Stand on the South Eastern corner of Chowgan Stands the Scarred and Famous Shrine of Shrine of Shah Asrar ud Din (RA). About him it is said that he was a born Saint (Wali)and began to talk soon after his birth. He performed miracles to the astonishment of all. He began foretelling the future, making the Walls to Walk and bringing the Dead back to Life.
On 25th Kartik (Bikrimi) the 03 days Annual Urs is celebrated and Thousands of devotees visit the Shrine for seeking blessing of great Saint.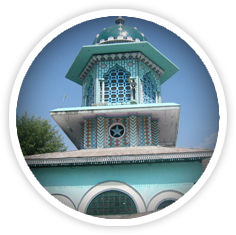 Shrine of Shah Farid ud Din Bagdadi (RA)
1.5Km from Main Bus stand a major Pilgrimage attraction "Shrine of Shah Farid ud Din Bagdadi (RA)" is situated. Shah sb. Came from Bagdad (IRAQ) along with his four disciples came to Kishtwar during Rule of Raja Jai Singh. The high spirituality status of Shah sb. And the miracles done by him impressed everyone including Raja Jai Singh.
7th of Harr (Bikrimi) is celebrated as Urs of Shah Farid ud Din Bagdadi (RA) every year in which thousands of pilgrims coming from all over the State & adjoining States participated. Beside religious discourses & other rituals scarred relics are also displayed during Urs on 7th Harr i.e month of June every year.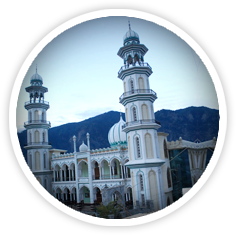 Jamia Masjid
The Jamia Masjid of Kishtwar is the biggest and the towering Masjid in the Heart of the City. It is located just near to the Bus Stand. Its foundation was laid by Shah Akhyar ud Din (RA) about 110 years ago. The construction for extension was Started in 1941 AD and in 2001AD. This is one of the biggest Masjid of J&K and can accommodate about 5000 Nimazis at a time. One can have a bird's eye view of City from its two Minarets.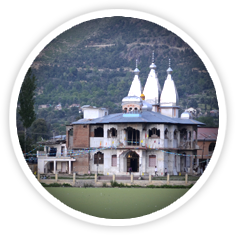 Gori Shankar Mandir
An old and historic temple of Shiva & Parvati situated at Corner of Chowgan is famous among Hindus of this region. It was originally a heritage place of a great saint Shri Paul on whose memory this place was named as Shrikut and now Sarkoot. The mandir is base of all prominent pilgrimages and festivals like Janmashtami, Ramnavami, Machail yatra, Sartha yatra.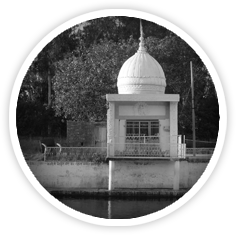 Neel Khanth Mahadev Mandir
The Temple is situated in the heart of Kishtwar town. In 1629AD it was built by Jagat Singh. A rare Lingam was placed in this temple which is said to be the family Idol of Kings of Kishtwar. Its colour resembled Sapphire later on it was taken to Basohli by the orders of Kings of Basholi.
Pochall
The purple coloured Saffron flowers spread like Irani carpet over fields early in the morning is the identity of Pochall. About 6 Km from the main City is Pochall village, one of the main attraction in Kishtwar due to its saffron cultivation. The Saffron flowers are in full blossom in the month of Oct. & Nov. every year. The cultivation of Saffron in Kishtwar dates back to Mahabharata era.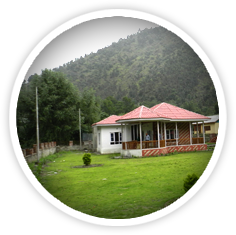 Mughal Maidan
20 Km from Kishtwar city is the famous Picnic spot Mughal Madian, lies on the bank of river Chatroo. Earlier it was known as Mughal Mazar because of the burial place (Graveyard) of Mughal Soldiers. The market place, tourist hut and trout fish farm with crystal clear water of river adds to the beauty of this place.
Chatroo
A small town on the right bank of Chatroo river is located about 30 km from Kishtwar. The area is rich in scenic beauty and is famous for its natural resources like wallnuts, apple, rajmah and guchi. It serves as one of the old route for people to enter Kashmir. Chatroo is also famous for its finest North Western Himalayan Alpine Pastures like Famber, Watseer, Syedani & Barishah. Famber meadow is famous among Locals & Tourists for Trout Fishing.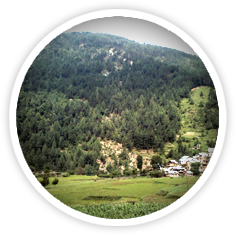 Chingam
A small picturesque village about 10 Km from Chatroo is Chingam. The array of terraced Paddy field in the back drop of thick forest & lush green meadows presents an eye – catching view. This is a must visit place.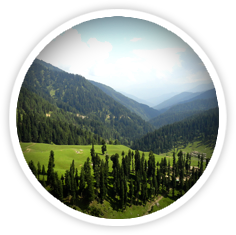 Sinthan Top
After ascending the zig zag road about 60 Km from Kishtwar towards Anantnag is Sinthan Maidan. The Alpine pasture of this place have matchless natural beauty.
The famous Sinthan Top is 24 Km ahead of Sintha Maidan at an altitude of 3745 Mtrs. On reaching the Top one feels at the Top of world. Views of the surrounding area and snow caped Himalyan peaks sometimes with cover of clouds are very charming.
Dacchan
About 52Km i.e 32Km by Road and 20Km by Foot is the beautiful valley of Dacchan. It is rich in Natural Heritage and also host one of the Highest Altitude National Parks with an altitudinal range of 1765 Mtrs to 4800 Mtrs. of Jammu province. The Dacchan is the Base camp of many Internationally renowned Treks and Mountaineering Expeditions to world famous Brahma Massif, Flat Top, Crooked Figure etc.
Marwah
A trek of 30 KM from Sounder, Dacchan along the bank of river Mariv Soder leads to Marwah, which is quite exhilarating and natural beauty is at its peak. The rich flora & fauna, gushing streams & water falls amongst dense Pine forests are eye – catching & soothing to travelers. It is famous for its medicinal Hot Water springs, treks, Rajmah & Walnuts.
Wadwan
The Switzerland of Kishtwar a beautiful valley adjoining Marwah is Wadwan. A fare weather road from Kishtwar via Sinthan Pass to Daksum leads to Wadwan by crossing the Margan Pass 3700 Mtrs above sea level. The verdant, smiling and virgin valleys of Wadwan are describing the scenic beauty at its best. The pastures and meadows alongside the river Mariv Soder are ideal places for Camping. The valley offers few treks leading to Kashmir & Suru.
Nagseeni
Located on the east of Kishtwar en-route to Padder is full of scenic beauty and is surrounded by forests. This is named after the Buddhist Preacher Nagseen. According to some historians a Buddhist Conference was held at Nagseeni in 2nd B.C. Some ruins of stone, temples, broken Idols and stone inscriptions have been found here.
Padder
About 60Km from Kishtwar is Padder valley rich in natural beauty, wildlife and a paradise of Himalayan trekkers & mountaineers. Home of famous rare Blue Kishtwar Sapphire , other semi precious Stones and Pine Nuts. It is famous for its hot springs and unique Indo Tibetan Cultural Heritage. Padder is the host of nationally renowned Machail Yatra. The Paddri folk Song and dance are very enchanting and interesting.
Beside these the other tourist places in District Kishtwar are Barnoin,Archi, Sarthal, Bimal Nag of Saroor, Devigool and Paternag Cave of Bonjwah, Tri Sadnya of Dacchan.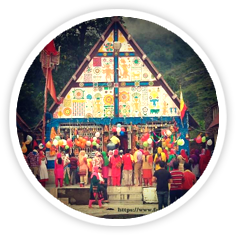 Machail Yatra
Chandi Mata yatra of Machail starts from Bhaderwah via Kishtwar to Machail of Padder and is very famous among Hindus all over the country. The pilgrims visit Machail for blessing during the month of August every year through out the sate & from other Places of country. Like Amarnath yatra Machail Yatries have to trek about 33Km from Gulabghar through scenic nature along side the bank of Bhut Nallah. The Village of Machail is surrounded by Mountain peaks like Shiv Ling, Ghandhari and famous Sapphire mines of Sumcham village. It is said that Gen, Zorawar Singh had annexed Laddakh to Jammu rule only after paying his obeisance at Machail Mandir. For making Yatra easy, Helicopter service is recently started from Gulabgarh. Beside Yatra to Chandi Mata mandir the pilgrims also visit the Oldest Buddhist Gompas of Haloti & Lossaini.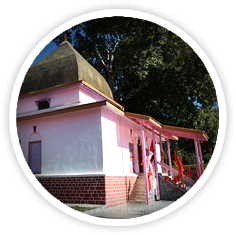 Sarthal Yatra
The annual Sarthal yatra of Kishtwar starts from Gori Shanker Mandir in the month of June. It is one of the important pilgrimage for Hindus of Kishtwar for taking the blessing of their Chief deity Ashtadashbhuja Mata or Sarthal Mata. About 900 years earlier Raja Agar Dev discovered the idol of Mata at Kaligarh (Galigad). An annual Yatra with Holy Mace has been going on since the time of Raja Agar Dev of Kishtwar. During Dogra rule it was declared as "Sarkari yatra" and two days holidays were declared for whole erstwhile District Doda.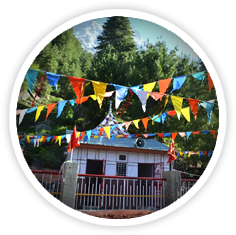 Hudh Mata Yatra
An annual yatra to Hud Mata & Tri Sandya is held on "Haar Shudi" Ashtami (8th day of bright Lunar fortnight of Haar) with great fan and fare. Initially the people of Dacchan only participated in yatra but now it is gaining momentum. The shrine of Hud Mata is an abode of "Shiv Parivar". In the Nanth Nallah of Dacchan there is a Cave where three naturally formed Ice Lingams of Shiva, Paarvati and Ganesha are source of attraction to devotees.
Kishtwar and its valleys like Dacchan, Padder, Chatroo, Marwah & Wadwan offers a verity of Adventure sports to visiting Tourists like Trekking, Hiking, Camping, Mountaineering, Angling, Paragliding & Rafting (River Chenab), Biking & Car Rally . Internationally renowned Trans- Himalayan Treks of Kishtwar leads to Suru, Zanskar, Kargil & Kashmir valleys via Umasi La (5342 Mtr.) Hagshu La (4975 m) etc.
Kishtwar is the major Mountaineering base of J&K surrounded by incredible number of Himalayan Peaks such as Barnaj I 6240Mtrs, Barnaj II 6280Mtrs, Bhramha I 6416 Mtrs, Bhramha II 6424 Mtrs, Shiv Ling 6000 Mtrs, Crooked finger 5630 Mtrs. Flat Top 6100 Mtrs, Hagshoo 6330 Mtrs, Sickel Moon 5575 Mtrs. , Cathedral 5635 Mtrs. etc. etc. Climbing on these peaks was recently re-opened by Indian Mountaineering foundation new Delhi. Chris Bannington and Nick Escort made the first ascent of Bhramha I in late 70s. whereas in early 80s Chris Bannington and Col. Balwant Sandu climbed Sickle Moon and made area quite popular as Mountaineering destination.
The following Trekking are best and International repute Trek:
Trek Route #1

Kishtwar
(02 hrs Drive) Gulabghar (Padder)
(04hrs Trek) Chishoti
(05hrs Trek) Machail
(04hrs Trek) Sumcham visit to Sapphire Mines
(05hrs Trek) Reli, Dangail
(07hrs Trek) Base of Kabban-La
(09hrs Trek) Beyond Kabban-La 4900 Mtrs.ASL
(05hrs Trek) Kabban Village
(03hrs Trek) Sohal Village
(01 hr. Drive) Gulabghar
Back to Kishtwar (10-11 Days Trek)




Trek Route #2

Kishtwar
02 hrs Drive)Gulabghar (Padder)
(04hrs Trek) Chishoti
(05hrs Trek) Machail
(04hrs Trek Sumacham visit to Sapphire Mines
(06hrs Trek) Rua Base
(04hrs Trek) Umasi La
(07hrs Trek) Beyond Umasi La
(06hrs Trek) Aiting
(03hrs by Road Puddam, Zanskar (09-10 Days Trek)




Trek Route #3

Kishtwar
(02 hrs Drive)Gulabghar (Padder)
(04hrs Trek) Chishoti
(05hrs Trek) Machail
(04hrs Trek) Sumacham visit to Sapphire Mines
(08hrs Trek) Pholong Dodo
(08 hrs Trek) Base of Hugsho Pass
(06hrs Trek) Beyond Hugsho Glacier, Khothong
(05hrs Trek) Hugsho Ghot
(06hrs Trek) Hugsho Village
By Road to Zanskar / Kargil (11-12 Days Trek)




Trek Route #4

Kishtwar
(12 hrs Drive) Nowpachi (Marwah)
(04 Hrs Trek) Tata Pani Village
(03 Hrs Trek) Metwan
(05 Hrs Trek) Fariabad
(06Hrs Trek) Duck Nalla
(07 Hrs Trek) Krish Nallah
(06 Hrs Trek) Nun/Kun Base (07-08 Days Trek)




Trek Route #5

Kishtwar
(10 hrs Drive) Chowidraman (Wadwan)
(04 Hrs Trek) Suknaie Village
(04 Hrs Trek) Wankaddal
(04 Hrs Trek) Hum Pet
(02 Hrs Trek) Batwat Nalla / Kain Tal
(03 Hrs Trek) Gali
(04 Hrs Trek) Panikhar (Kargil) (06-07 Days Trek)




Trek Route #6

Kishtwar
(10 hrs Drive) Chowidraman (Wadwan)
(04 Hrs Trek) Suknaie Village
(06 Hrs Trek) Sar gali
(08Hrs Trek) Sheesh Nag
(06 Hrs Trek) Phalgham (05-07 Days Trek)
---
Other interesting places to visit
Vimal Nag
Vimal Nag locally called Bimal Nag is an incarnation of Lord Vishnu. The idol of Lord Vishnu seated on Sheshnag, having 'Shankh' in one hand and 'Chakra' in the other hand and made of rare black stone is a source of attraction for the devotees from the times immemorial. The Vimal Naag temple stands in the centre of a vast lush green and plain meadow amidst a grove of tall Deodar trees. A spring flows underneath the idol of Lord Vishnu and forms a small pond in front of the temple. The temple premises have an eye-catching beauty. Devotees and the nature-lovers throng this place throughout the year. However, from past 3-4 years, a yatra to Vimal Nag temple is undertaken which originates from 'Neel Kanth Mahadev Temple Kishtwar. Worship of serpents and springs, both associated with Lord Shiva and Vishnu is the special feature on the day of Naag-Panchmi. The practice of cleansing springs and Lakes, a great characteristic of Nag culture is not limited to cleaning and worshiping only, but a contribution to pollution free atmosphere, embedded in the psyche of every Indian. Pilgrims consider it auspicious to take part in the cleansing work.
Bhandarkoot
Situated at a distance of about 12KM from Town on Kishtwar – Sinthan Road. The word Bhandarkoot means Store Rooms. An old fort which is in ruins today on a Hillock, seems to have been constructed for storing grains in peace times. A prominent Shrine of Hazrat Zain ud Din Wali is here. It is the confluence place of two rivers namely Chenab and Mariv Soder. Legend has it that Lord Rama of the Ramayana Epic perform last rites of Jatayu. The majority of Hindu population of Kishtwar Town throngs this place on eve of Baisakhi for Holy dip in Chenab.
Kalamsater
A lush green meadow surrounded by Deodar trees lies just 10Km towards Northeast of Town. It offers a best place for a Trekker or Camper to enjoy Nature in isolation.
Raghu Nath Mandir & Shiv Mandir
Raghu Nath Mandir dedicated to Lord Rama is 600 years old and is still in original form & Shape. Janmashtami & Ramnavmi Yatras which are started from Gori Shankar Mandir culminates at Ragunath Mandir. In early times some prominent Muslims were also part and parcel of these festivals.
Shiv Mandir was constructed during Dogra rule and is now developed and given a morden look. Devotees from every walk of life pay their obeisance.
Shrine of Shah Abdal Sb.
Located about 3.5Km from Kishtwar at Dugga village is the shrine of Shah Abdal Shaib, one of the close associate of Hz. Shah Farid ud Din, he was formally the rular of Sindh. Every year Urs is celebrated on 20th Harr (Bikrimi).
Qila Top
1.5Km from Main Bus stand, Near the Shrine of Shah Farid ud Din (RA) is Qila Top on a hillock where a Fort and Palace exited during the rule of the Raja's of Kishtwar. As the Sikhs took possession of Kishtwar, it was razed to ground, with the passage of time the Palace and fort became non-existence excepting the Throne made of Stone.
---
Art & Craft:
Kishtwari craft like handmade Woolen Blankets, Shawls, Gaba are famous artistic work of this mountainous region. Beside this, the Bina work of wheat & Paddy grass is also famous and a rare kind of Art & Craft. The centuries old Bakerwals Silver Jewelry made by Local Jewelers are also famous among Outsiders and Tourists.
Fairs & Festivals:
Bedside the annual Urs & Yatras the other festivals & fairs which are celebrated in this region are
MAGHA MELA
as mark of jubilation of Farmers,
GULABGARH MELA
a festival for inviting the blessings of Shakti Mata is celebrated in Padder,
LOSAR
which is celebrated by Buddhists of Padder,
KANCHOWTH
a festival of Hindu married Women,
BISOU
or
BAISAKHI
.
The Music & Folk lore of Kishtwari is Kashmiri , Indo- Tibetan & Paddri is famous. The gaddi dance form of Padder is unique in Sate. Whereas Tibetan Dance form are performed on various fairs & festivals by Buddhist of Padder.
---
USP:
Kishtwar (Padder) is famous for rare Blue Sapphire is known as the king of Sapphires. Its deep blue colour with velvety touch resembles to the neck of Peacock, which provides the only discernible characteristic of the stone from rest of the world. The Saffron which is cultivated in Mandal area of Kishtwar is best quality produced in India, It is handpicked and sun dried to give it more aroma and quality. The wild Morchella (Gucchi) & wild Cumin (Zeera) are some rare kind of natural produce in Kishtwar.

Kishtwar is the major Mountaineering Trekking destination in India surrounded by incredible number of Himalayan Peaks like Bhramha I 6416 Mtrs, Bhramha II 6424 Mtrs, Shiv Ling 6000 Mtrs, Crooked finger 5630 Mtrs. Flat Top 6100 Mtrs, Sickel Moon 5575 Mtrs. and High Altitude Passes. Kishtwar is famous for its Trans Himalayan Treks leading to Kashmir, Suru, Zanskar, Panikhar etc.

The High Altitude National Park with an area of 2100 sq km of Kishtwar located in Dacchan The area lies in the Central Crystalline belt of the Great Himalayas and is famous for Snow Leopard, Ibex, Musk Dear and Himalayan Bear etc.