Monuments & Heritage
---
Let's Explore More, Now!

Monuments/Heritage
---
Ambaran-Pamberwan sites :
AKHNOOR ARCHEOLOGICAL SITE
"An Insight into the ancient Buddhist ruins of Kushans and Gupta dynasties"
---
A Buddhist monastic complex on the right bank of river Chenab, at Ambaran, near Akhnoor and dates back from 1st century BCE to 4th-5th century CE, gave a strong physical proof of a vibrant Buddhist phase in Jammu. Such monastic complexes like Ambaran not only served as important transit stations for the iterant monks who were constant companions to the caravans of traders ferrying goods from the Indian mainland to Kashmir and further afield to the Central Asia, but also as centers for propagation of Dhamma amongst the local hill communities.

Some coins, terracotta beads and other articles of Kaniska- the great Kushan Emperor unearthed there and are exhibited in a small room/gallery.

The site was abandoned during the seventh Century AD due to flash floods in the area and the decline of Buddhism in the region. While the remains of the platform are there for visitors to see, the superstructure is missing.

The excavations suggest four different periods of human settlements in the area - the pre-Kushana period (second Century BC), the Kushana period, the Gupta period and the post-Kushana period. Many terracotta heads and a gold casket were unearthed here.
From Airport
View Map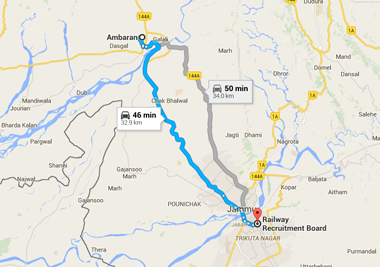 From Railway Station
View Map