Explore Jammu Province
---
See Jammu Pilgrimages

Explore Jammu Province
---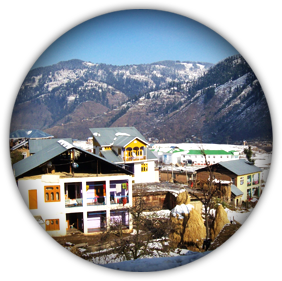 Doda District
---
Doda at a Glance
"A Popular Religious Site"
Doda district abounds in scenic spots with large forest area, snow-clad peaks, virgin trekking routes and majestic Chenab river passing through it. The district offers a variey of tourist spots, health resorts and enthralling trekking routes despite the vast-potential. But for the commuting/transportation constraints, the district has attracted a sizeable chunk of Domestic/Foreign tourists.
Tourism in Doda has tremendous potential. The lush, verdant meadows of Lal Draman and Dal Draman with their fir and deodar forests, the pristine Jasmia Masjids & Ziyarats, Vasukinag Temple and the Kailash Yatra and Gupt Ganga attracts pilgrim tourists by the droves. Besides Doda is a real treat for adventure enthusiasts with its numerous Hiking , Camping & trekking zones of enchanting scenic beauty.
Where to Stay:-
A number of hotels are available in Jammu suiting every pocket. Jammu city lies at uneven ridges of low heights at the Shivalik hills. It is surrounded by Shivalik range to the north, east and southeast while the Trikuta Range surrounds it in the north-west. The city spreads around the Tawi river with the old city overlooking it from the north (right bank) while the new neighborhoods spread around the southern side (left bank) of river. There are five bridges on the river. The city is built on a series of ridges List of Hotels.
More Information
Altitude
1,107 Mtrs.
Temperature
Summer
7.6°C to 30.4°C in Doda

25°C to 16°C in Bhaderwah
Winter
5°C to 10°C in Doda

-3°C to 08°C in Bhaderwah
Best Season
September to April in Doda. April to September in Bhadewah.
Clothing
Summer: Light Clothing to Light Warm. Winter: Warm Clothing/woolens to Full Warm
Getting There
---
How to Reach Doda
By Road:-
The City is connected with rest of country with Batote Doda Road adjacent to NH 244. The all weather roads are constructed in entire Distt. Daily Bus/Tempo services and shared Taxis are plying from Jammu & Other cities to Bhaderwah.
Bhaderwah – Chamba road (90 Kms). It is a road that takes you past many panoramic beautiful vistas of unspool countryside. Bhaderwah - Bani – Basholi road (166 kms) takes off on the 8th kms on Bhaderwah- Chamba road.
By Flight:-
The nearest airport is situated in Jammu (195-kms)
By Rail:-
The nearest Railhead is situated in Udhampur (150 Kms) & Jammu (190-km).
Where to Stay
A number of Hotels/Huts & Guest Houses are available in Doda & Bhaderwah Town suiting every ones Budget. Where as in peripheral valleys Paying Guest Houses and Home stay is available for Tourists.
What to see in Doda:
Bhaderwah
Bhaderwah is a valley bewitching natural beauty and panoramic vistas which have earned it epithet of 'Chota Kashmir'. The Splendid Springing Valley "A place of Beauty and Grace "Bhaderwah" is a beautiful valley situated at a distance of 205 km from Jammu. The history of Bhaderwah is very old right from Mahabartha in Puranas it is known as Bhadrakashi. Bhaderwah is a land of splendors and surprises, a place where God's architectural experience and elegance is felt. Bhaderwah offers to tourist a variety of beautiful landscapes, colourful local fairs & festival and unique mosaic of culture.
A full majestic view of the sylvan Bhaderwah valley with snow – capped background makes visitors fall in love with Bhaderwah. It is also known as Nagon ki bhoomi, which means "land of snakes. The Snow bed Sonbain on the Ashapati Mountain looming over Bhaderwah valley is at a distance of one and a half Kms from the main Chamba road. It takes about an hour to trek upto Sonbain, which remains full of snow even in summer.
---
What to see in Bhaderwah
Gatha Lake View Resort
Lake View Resorts Situated in the lap of Bahdarwah, is 1.0 Km. away from heart of the city. The one of the best and beautiful place in Northern India with the view of Kailash, and Asha Pati Glaciers. The temperature throughout the year is cool to pleasant. Light warm clothing is needed for occasional cool nights in summer time and in winter full warm clothing are needed. With the terraced lawns, cascading fountains, flower beds with the panorama of lake in front of them.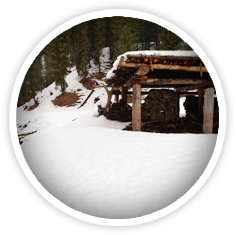 Jai Valley
The picturesque longitudinal valley of Jai located at a height of 7000 fts. located 35 Kms from Bhaderwah. It is an extremely beautiful region surrounded by thick deodar on steep slopes and a beautiful sprawling meadow nearby.

Jai the everlasting Green Valley lies on the North East of Bhadarwah town connected to the town by beautiful Bhadarwah-Jai Link Road. The Valley runs in kilometers bisected by the rivulet called Jai Nallah flowing towards the Thathri. The Jai nallah is popular for Trout Angling. The stay facility for the tourists is available as "HOLIDAY VILLAGE" built by way of colorful tented accommodation. It is the ideal place for winter sports as it remains open to tourists.Visitors can also pitch their tents here for weeks together and enjoy horse-riding, Hikking. The valley is also known for wild herbs like Digitalis Purea, Aconitum and Podophyllum etc.
Padri
Padri is a 'Gali' of undulating landscape, located 40 Kms from Bhaderwah – Chamba road, at a height of 10,200 feet. It experiences heavy snow fall up to 4 meters. It is one of the famous sought picnic spot in Bhaderwah. Padri is a "Gali" of undulating landscape, is the highest point on Bhadarwah-Chamba road.

The gentle curves and slopes of hills beset with lushgreen carpet of grass comes as surprise. Calm of the meadow is broken when thousands of pilgrims of the famous Mani-Mahesh Yatra pass through Padri in July every year. In addition to the natural beauty, one can have thrilling horse ride on the meadow.
Seoj Meadow Bhaderwah
The meadow of Seoj is flanked by a gushing river on its west which emanates from hills surrounding Kailash Kund. The landscape across the river is replica of the beauty of Pahalgam, whereas on the eastern side there are long stretches of grasslands. On the western side meadows take a descent along crystalline water of Seoj rivulet and roll towards Ramnagar areas of Udhampur. The amazing beauty is found in plenty. On the south is the sacred Kailash Kund , surrounded by snow-capped mountains. On way to Kailash Kund, there is unique landscape at Shankh Paddar. Seoj Dhar, as locally known, is the camping ground for thousands of yatris of famous Kailash Yatra who come from Bhaderwah.
Lal Draman (Doda)
It is a saucer shaped beautiful spot 20 km north-west of Doda Town, amidst lofty deodar and fir trees, is one of the best tourist site of the district of Doda near village Sazan. Lal Draman in English means Red Meadows. Lal Draman offers a variety of beautiful landscapes, extremely soothing and pleasant summer, numerous spots of scenic splendor and snow winter.

Lal Draman remained a favorite place for Sh. Sheikh Mohd. Abdullah. He had deep affection for the scenic beauty of Lal Draman and made frequent visits. Lal Draman is also one of the symbol of unity among two different communities with a beautiful small Mosque & Temple present side by side. People of area are famous for their hospitality.

From last few years people from different parts of district regularly visit Lal Draman for picnics, camping & also some tourists had started to come for winter sports like skiing because of good amount of snowfall of approx. 6–8 feet in winters.

In addition to Lal Draman, there are a number of other lush green, meadows, no less than Sonamarg or Gulmarg of Kashmir, like Makhan Baggi, Allah Kanda, Chandrain, Kilmil Gurmal Galla, Basam Galla, Dal Draman, Loni Draman, Chapnari, Saiba Wali Marg, Choundi Sira, Elali Shiva, Udyanpur and Bharath etc which are a perfect tourist treat.
Kailash Kund (Bhaderwah)
Kailash in Bhaderwah is called "Kablas". It is a big lake situated at a height of 14241 ft. from sea level. It is beautiful, Pure having ice cold clear fresh water lake, surrounded by mountains and glaciers. There are many such kunds, some are large like Kailash, Rishi dals and Kal dals (Dal means Lake), some are small kunds among the surrounding hillocks and rocks.Kailash Kund is source of River Tawi and Surni Kund source of river Ujj.

Kailash Kund is the holy place where Shri Vasuki Nag ji Lives. Lord Shiva also visited the spot, seven streams flow out of this place. It is one of the biggest pilgrimages of Bhaderwah. Taking bath and donating something to poor at this place is sacred and noblest job which is rapid in many fold.
Bhaderwah Fort
The historic fort built was built in 1733by the erstwhile kings of Chamba and Bhadarwah is located just beneath the Teli ghar tourist complex. The fort was converted into jail in 1919. also housed several freedom fighters, inculding Pandit Kashyap Bandu, Sant Singh Teg and later former Chief Minister Sheikh Mohammad Abdullah. Latest LED based Light & Sound System is being installed in the Fort which will be one of its kind in J&K.
Khellani (Bhaderwah)
It is a Deodar clad plateau overlooking Kellar valley,15 kms from Bhaderawh. Drained by the Bankut Nallah,The dence pine forest add charm & calm to this ideal pleasure spot. From late summer to autumn the valley provides a bounty of fruits like Apricots, peaches, plum and apples. While at Khellani you can walk through Khellani pass amidist various villages connected at Maulote and take the road back to Khellani. The igloo Huts & tree house are ideal choice for Tourist accomodation.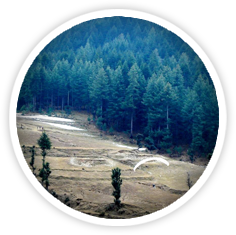 Chinta Valley (Bhaderwah)
Situated at a height of 6,500 feet is a beautiful valley with thick coniferous forests on all sides and Chinta Nallah flowing through it. A grassy meadow called Bagan on one side of the village is favoured by picnickers.

Many scenic spots are situated around this place. One such place is known as Thuba, which is situated across Chinta nallah. Horse ride from Baggan to Thuba is enjoyable. Thuba is the highest point which separates the Chinta valley from Bhaderwah. This place also has ancient temple of Lord Shiva .
Guldanda - Sonbain Glacier (Bhaderwah)
One of the mighty ridge falls on Bhadarwah-Bani-Basohli Road where one gets lost in the beauty of forests and grasslands. Towards its left lies the mighty Sonbain glacier which gives birth to Neeru River where one can feel and play with the snow just having a walk of five-ten minutes even in the peak summers. At Guldanda, the summer camps are being organised in colorful tented accommodation, having a glimpse of the ridge and glacier one gets tempted to stay back.
Vaskui Nag Temple
There are four Vasukinag temples in Bhadarwah: one at Gatha, second Nalthi, third Bheja and fourth at Nagar Bhadarwah. But the idol of Vasukinag at Ghata is marvelous and a wonder of art and sculpture. Two idols of Nagraj Vasuki and Raja Jamute Vahan, are made of black stone which stands at an angle of 87° without any support from either sides. The statues have been standing as they 'were, on small feet in their original position for thousands of years, although the place has witnessed so many upheavals and geographical changes, including quakes of intense severity. The art of sculptures itself is of unique type.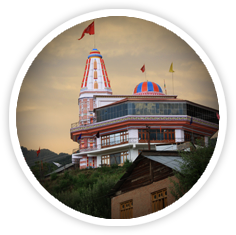 Chandi Mata Mandir Chinote (Bhaderwah)
One more marvelous temple of Mata Chandi, is situated at village Chinote. Every year Trishule Bhaint Yatra comes here from Doda on 3rd. July. After days bhajan keertan and Bhandara, Yatra returns to Doda in the evening.

Then on 18th. August a grand Yatra in which thousands of devotees of Mata Chandi from inside and outside state participate. The Yatra starts from Chinote Bhadarwah to Machail and after one day stay at the Bhawan of Chandi Mata at Machail (Paddar) returns back to Bhaderwah. The duration of this Yatra is of one month.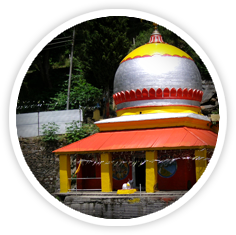 Gupt Ganga (Bhaderwah)
It has a cave and it is said that during Agyatvas the Pandavs spent few days here in the lad of Nagas. A big foot on the rock of temple is attributed to Bhim. The legends also says that there was a tunnel connecting Bhderah to Srinagar. Fishing in 2Kms stretch of river Neeru is prohibited.
Kailash Yatra
Kailash yatra in Bhaderwah starts every year from Gatha (Previously named Ghoshta) to Kailash Kund, in the month of Bhadu on Dewadshi Thethi in krishan pakh according to Bikrami Samwat (i.e. in late days of August). This Yatra Starts from one of the oldest temple of Shri Vasuki Nag Ji in morning with beating of Drums, blowing of flutes amidst the shouting of religious slogans by the people.

The Yatra takes place from Vasuki Nag Temple Ghata and ends on the Kailash Kund. It takes 2 hours to cover the periphery of the Kund. On this occasion there is Dikko folk dance for full nights and people from other communities also participate in these functions.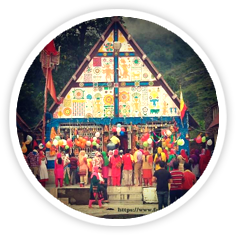 Machail Yatra
The miraculous Machail Yatra to the hilly and pictureque area of Paddar in district Kishtwar. The popular Machail Yatra is commencing on 18th of August from its base camp Chandi Mata Mandir Chinote-Bhaderwah with religious fervour and gaiety by dint of its historical, religious and natural importance.

The holy shrine splendid temple of the Goddess Chandi is situated at the height of over 10,000 feet above the sea level in Machail village surrounded by high mountains, thick deodar forests and attractive meadows adjacent world famous sapphire mines area. The most attractive and historical lion ridden idols of the Goddess Chandi and Lakshimi Ji made of pure silver and white marble inside the temple are the rare sight and source of inspiration for the pilgrims.

The holy place of Machail Shrine is about 250 kilometer away from Jammu city while 31 kilometer journey of the pilgrim age with night halts at Massu, Chishoti and the Machail villages is covered on foot.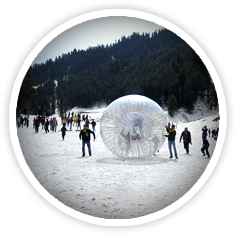 Adventure in Doda
Doda & Bhaderwah and its valleys & meadows like Lal Draman, Dal Draman, Seoj, Chinta ,Thanala ,Padri , Gashir Dhar, Bal Padri, Jantron Dhar,Barmi Meadow has exciting activities for adventure Camping, Trekking & Hiking enthusiasts. Khani Top and Thuba are ideal for Paragliding sites offering exhilarating descents into the Bhaderwah Town. Doda being a mountainous region posses tremendous potential for adventure seekers. The destination is identified as ideal paragliding spots, Rock Climbing, Snow skiing slopes and trekking expeditions besides cross country car & motorbike rallies, also opportunities for sports like mountain biking are ample on the high altitude meadows on the periphery of Doda & Bhaderwah. Doda has many ideal sites for beginners and expert rock climber.
---
Other interesting places to visit
Jamia Masjid
118 Years old, splendid mosque situated in the main town is a marvelous sample of ancient art of construction. People from far and near come to see it. Greatest gatherings of Muslims can be seen in this mosque on Festivals & Fridays.

The Jamia Masjid is one of the most imposing constructions in the town of Bhadarwah. Its impressive design arrests the eyes at once. It is a standing monument and testimony of the faith of the followers. It consists of central building with two halls and side rooms and four lofty minarets at the four corners. The workmanship of its architectural quality can easily compose with the similar structures in rest of India.
Ziyarat Bangla Nallah (Bhaderwah)
It is situated to the North East of Bhadarwah at a distance of 20 Kms. In Chirala range amidst thick forests on the side of Chirrala Nallah. It is believed that whenever animals of the farmers suffer from mouth and feet trouble, they make some offer to this Ziyarat and the Cattle recover from the disease. Thousands of pilgrims visit this Ziyarat every year.
Khanthi Dhar
30 Kms from Thatri via Khillotran is located beautiful meadow of Khanthi Dhar. A local fair is held (mela) annually. The people from all walk of life participated in this fair.
Jantron Dhar
A lush green meadow is about 40 kms from Doda via Sui Gwadi, Thellela & Bhella. With another connectivity via Thatri, Hallaran . An Annual Dangal (wrestling ) mela for 3 days.
Chatergalla Pass (Bhaderwah)
On Bhaderwah-Bani-Basohli Road passing through Chatergalla Pass (the highest pass in the area) where one can have the feeling of flying just by standing at Chatergalla. the coolest and fastest air blows even in summers at pass, undoubtedly one must carry the light warm/woolens to withstand the cool atmosphere around.
Reushara
Is a majestic peak having a height of 11,000 feet. On one side is situated the sleepy valley of Jai and humming valley of Chinta while on other side is the hitherto unexplored region of Chiralla. Reushira peak is beset with ancient temple of Goddess Durga. Thousands of devotees visit the temple to offer prayers, especially during Navratras.
Bhal Padri (Bhalessa)
Is yet another picturesque valley which has an intersection of rivulets and streams. A dreamland, not known to many, is 4 kms. North-east of Padri, having unique landscape where many miniature valleys join hundreds of milky streams and rivulets traverse this composite valley down the length.
Marmat
Located at a distance of 40kms from Doda City. The Marmat Tehsil is full of scenic beauty. The place is surrounded by Deodar forests. The places like Kahalota, Upper Dehota, Dore, Ratto Top, Dadni, Padri Marmat and Dera Top is full of Natural Beauty having rich forest cover with Alpine meadows. The area has rich agriculture produce like Rajma, Maize & fruits.
Thathri
Thathri is located in foothills of Himalayan Mountains. In Ancient times, there was the fields of paddy of nearby villagers and with passage of time it became a village namely "Thathri".

The town has reservoirs of marble which lends to its nickname, Marble Town. The word Thathri derived from the Kashmiri word "Thath" (ٹہاٹھ). Apart from having ample forests, the town contains many small streams flowing through its various parts. Its is located on the bank of the famous river Chenab. The stretch near Thathri offers Rafting for professionals.
Bhalessa: A land of Legendary People
Full of awe aspiring mountains and having a huge potential of tourism. The narrow all weather road passes through little hamlets, comprising a couple of houses built around pagoda-shaped mosques and box-like temples with sloping roofs made of corrugated iron Balessa is known for traditional communal hormony. Bhalessa is full of meadows popularly known as Dhar like Kanthi, Soin Bhagar, Roharhi, Dagan, Bal Padri, etc. the area is hmountainous, it has umpteen number of Camping sites/trekking routes which pass through places with unbelievable captivating scenic beauty The place is a comfortable base for trekkers and mountaineers, on their way to the Great Himalayas. The nearest railhead is 119 km away at Jammu.

The main river in Bhalessa is Kalgoni stretching from "Kansozoo" that merges into the Chenab. Besides this there are some other small streams.These rivers flow through gorges and are mainly exploited for generation of Hydel Power. There are some world's oldest Deodars in Jitota area of Bhalessa. The Semi - precious stones in the area are also expected to be found in the Dudwar area.
Dal Draman (Doda)
It is about 25 Kms. in the north-east of Doda. From Doda to Udhyanpur, the journey is by Bus/Taxi and thereafter, 5Kms. journey on foot. Dal Draman is famous for the healing effects of its sweet, cool and serene beauty and its salubrious climate. Situated at an altitude of 2,700 mtrs. above the sea level, the place has tremendous attraction for the local people wishing to unwind and relax.
Nalthi
10 kms. from Bhadarwah which serves as a base camp for trekkers and a beautiful picnic spot is Nalthi. It has become a junction point with the completion of Bhadarwah-Bani-Basholi road. Apart from dense deodar forests, it has been gifted with lush green patches of grasslands studded with blooming flowering plants of different colours. The cool breeze flowing across snow-clad mountains makes the place all the more fascinating in summer months. Trekkers from Sarthal (Bani) and Bhadarwah take rest at this beautiful place after descending from or ascending to 10,500 feet hight.
---
ART & CRAFT:
Doda's craft like handmade Woolen Blankets, Shawls, Gaba are famous artistic work of this mountainous region. Beside this, the Bina work of wheat & Paddy grass is also famous & rare kind of craft. The centuries old Bakerwals Silver Jewelry made by Local Jewelers are also famous among outsiders and Tourists. The Music & folk lore of Bhaderwahi is famous and resembles with that of Cahmba. Another form of Music is Kashmiri & Serazi. The dance form performed on various fairs & festivals are Dikku & Ghurai.
Fairs & Festival
Doda is also a land of fairs and festivals. Bedside the annual Yatras the other festivals & fairs which are celebrated in this region are Mela Pat, Sobar Dhar Mela, Kud dance, Pahari folk songs and music. KANCHOWTH a festival of Hindu married Women, BISOU or BAISAKHI, Jantron Dhar Mela & Khanthi Dhar mela on 17th July annualy.
Mela Patt
Mela Patt' is celebrated every year at the compound of Khakal Mohalla on the occasion of Nag Panchami to commemorate blessing of Vasuki Nag. The celebrations are held seven days after Kailash Yatra and last for three days.
Bhaderwah Tourist Festival
The festival is held for two days annually at different venues in the Bhaderwah Valley. The festival show cases the song, dance, customs ceremonies, ethnic foods etc. of the region. A range of cultural activities are performed to show their regional art and culture. Apart from business, art and culture activities, sports and tourist activities are the other features of the festival. Every year, Bhaderwah witness significant influx of tourists to the region during Bhaderwah festival.
---
USP:
Doda is famous for Natural Beauty & dense Pine forests. It is also famous for locally grown Rajma in rural areas organically which are high in demand. The Local Music & Dikku dance is unique in itself. The idols of Vasuki Nag made-up of black stone which stands at an angle of 87° without any support from either sides.