Explore Jammu Province
---
See Jammu Pilgrimages

Explore Jammu Province
---
Jammu the hilly region spread across the Middle Himalayas and the Shivaliks in Jammu and Kashmir presents a variety of attractive features and is home to several tourist resorts and pilgrimage centers. These include the Holy Cave Shrine of Mata Vaishnodevi Ji, nestling in the folds of the Trikuta hills which is one of the most venerated Hindu Pilgrimages destinations of Northern India, visited by millions of pilgrims every year. Also hidden away amongst the surrounding mountains are a number of hill resorts, the most famous among these being the beautiful meadows of Patnitop and Sanasar towards northeast of Vaishnodevi Ji. These present an opportunity to recoup, after the strenuous pilgrimage, admits an enchantingly beautiful and salubrious environment, with a variety of other tourist attractions / pilgrim centers to see en route before returning to Jammu, the City of Temples, on way home
Patnitop
"A Summer Hill Resort"
---
By far the most popular of Jammu's hill resorts, 87 Kms from Katra, Patnitop (2024 meters) is perched on a beautiful plateau across which the Jammu – Srinagar highway passes. It comprises of several meadows enveloped by thick forest of Deodar and Kail trees and affords peaceful walks amidst pine groves, beautiful spots for enjoyable picnics and breathtaking views of the Chenab basin and th Pir Panjal range beyond. For solace one can visit th beautifully located Nag Mandir. Other activities include horse rides and short treak into the surrounding hills. One can also drive through thick forest 12 Kms downhill to Batote, an old hill station also known for apple orchards, Amar Cheshma and other springs. From here one can also visit the Dam site of the Bagliar Hydro – Electric Project 10 Kms away, with the permission of the project authorities.

In winters (January – February), the snow covered slopes of Patnitop provide opportunities for varius snow games including amateur skiing and sledging. Visitor facilities at Patnitop include good quality accommodation in hotels guesthouses, the JKTDC's tourist bunglows, and recreational facilities in the Patnitop Club. Accommodation for youth and students is available in the Youth Hostel. The JKTDC's luxury huts self contained timber cottages tucked away amidst pine trees provide an idyllic ambience for a quiet and memorable stay surrounded by sights and sounds of nature.


---
Sanasar
"Mini Gulmarg"
---
The most exciting feature of the beautiful resort of Sanasar (2079 meters), 19 Kms west of Patnitop, is a sprawling cup shaped meadow, 1 surrounded by gigantic conifers, which has been developed into a 9 – hole golf course. Besides enjoying exciting pony rides amongst the groves and other smaller meadow, one can also take treks up the surrounding hills from here. Sanasar is also ideal for paragliding, while Natha Top on way to Sanasar affords scenic views of the surrounding peaks and valleys. For those desirous of experiencing a quiet stay surrounded by the tranquility of nature, there are several self contained huts and a Tourist Bungalow managed by JKTDC at Sanasar.


More Information
| | | |
| --- | --- | --- |
| | Patnitop | Sanasar |
| Altitude | 2,024m | 2050 m |
| | | |
| Temperature | | |
| Summer | 8°C to 20°C | 10°C to 20°C |
| Winter | -10°C to 10°C | -14°C to 10°C |
| Average Rainfall | 158 mm | 368 mm |
| Best Season | Summer- May To June | March to May |
| Clothing | Summer: Light Cottons. Winter: Woolens | Summer: Light Cottons. Winter: Woolens |
| Languages | Hindi & Urdu | Hindi & Urdu |
Getting There
---
Krimchi
After travelling a further 25 Km towards Patnitop, a short detour of 8 Km. from the National Highway near Highway near Udhampur, leads to Krimchi, the site of one of the oldest temple complexes of Jammu. Believed to have been constructed in the 11th – 12th century AD, this group of temple, also locally known as the Pandava Temples, has some interesting architectural features, which resemble the Orissan style of temple architecture.
Chidai Muttal
As one embarks towards Patnitop, 12 Kms. Krom Katra , is Chidai Muttal, famous for its wells and well side sculptures. An ancient temple stand beside a small garden here, shaded the Chinar trees normally associated with Kashmir. A brief stop over at this place refreshes one's soul and mind.
Udhampur
An important town in the hilly areas of Jammu Region, Udhampur is the farthest rail head of Northern India so far. The ancient Raghunath Temple located next to the sacred underground river Devak is one of the oldest temple of the region. Accommodation is available in the PWD Dak Bunglow and several private hotels. The ancient temple of Jallandri Mata at Ladden Kotli believed to have ben the abode of th Pandavas for some time during their exile. The hidden chambers in its roof, sculptures on its wall and the nearby springs tell a unique story. Mini Hydel Project Chenani, at a short distance, and an ancient fort provides the backdrop of the temple. 10 Kms from Udhampur towards Patnitop, at the way side station of Samroli, one can enjoy Kaladi Sandwich (a local cottage cheese produced in the interiors of hilly areas) with a hot cup of tea.
Kud
The first hill resort on this circuit, Kud (1738 meters), is a picturesque town located just 9 Kms short of Patnitop. This resort commands a panoramic view of th terraced valley downwards and the mountains beyond, specially from the Mall Road, presently under construction. Besides enjoying a cool climate in summers, it is also famous for Patisa a specialty sweet preparation and waters of a spring. A number of hotels and guesthouses besides the Tourist Bunglows of the JKTDC here provide decent accommodation for a comfortable stay in the hills.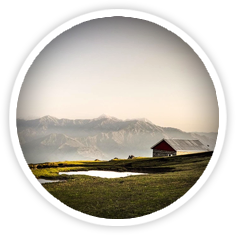 Sankhpal
At an altitude of 10,000 ft, 10 Kms from Sanasar, the misty meadow of Sankhpal offers the most exciting trek from Sanasar. It takes about two and half hours of exciting trekking through scenic mountain slopes to reach here. One can also here ponies utp Sankhpal. Food etc., should be carried from Sanasar. At one side of the meadow is the small old temple of Sankhpal Devta. On a clear day trekkers can be rewarded with breathtaking views of the mountain peaks.
Jhajjar Kotli
Further ahead, 35 Kms short of Jammu on the National Highway is the Jhajjar Kotli, Tourist Complex, built on the banks of the Jhajjar rivulet. The crystal clear, cool waters of Jhajjar attract picnickers in large number especially during summers. A Tourist Cafeteria, a Bar and a small Tourist Bungalow are provided here by JKTDC. Moving further towards Jammu, one can also stop at the ancient Rani Ka Talab.
Kol Kandoli (Nagrota)
The ancient temple of Kol Kandoli located at Nagrota, 9 Kms from Jammu is considered to be the firs tdarshan of the Holy Goddess of Mata Vaishnodevi Ji. In the days when the pilgrimage to Vaishnodevi Ji was performed entirely on foot, the first of the 6 nights halts after Jammu used to be at this temple.
Kali Mata Mandir
While returning to Jammu one can visit the Kali Mata Mandir located next to a waterfall near Manthal, 40 Kms from Jammu. A highly revered location for travelers driving on the National Highway, it provides a cool and refreshing stopover point for th traveler especially during the summer season.
Sudh Mahadev
This highly revered Shiva temple (1225 mtrs.) is located at a distance of 42 Kms from Patnitop and 112 Kms from Jammu Legend has it that after bathing at a spring called Gouri Kund, just short of Sudh Mahadev, the Goddess Parvati would worship the Shivling here that is believed to be at least 3000 years old. The temple also houses a black marble statue of Lord Shiva and Parvati. A trishul (trident) of Lord Shiva is also preserved here. Pilgrims in large number visit th Shrine on the full moon nigh of Sawan (July – August) to participate in the festival to worship Lord Shiva. The mystical underground stream, Devak believed to be as sacred as the Ganges originates at Sudh Mahadev and disappears among the rocks some distance downstream. Also of interest are wooden sculptures, crafted locally. Accommodation is available in Tourist Sarai managed by J&K Tourism Development Corporation and Dharamshala managed by the Dharamarth Trust.
Mantalai Temple
A few kilometers further ahead of Sudh Mahadev is Mantalai (1450 meters) surrounded by lush deodar forests. As per legend, it is the place where Lord Shiva got married to Goddess Parvati. Besides the Shiv Temple here, one can also visit the complex created Swami Dhirendra Brahamchari which includes a tree shaped house, an air strip, a hostel and a number of other unfinished projects. An excursion through the woods to Naina Devi 5 Kms from Mantalai provides excellent views of the mountainous landscape all round.