Monuments & Heritage
---
Let's Explore More, Now!

Monuments/Heritage
---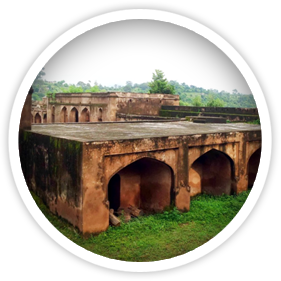 Chingus Fort/Sarai, Rajouri
"The Mughal pitstop in the Wilderness"
---
Chingus Fort or, so to say, Chingus Sarai is located in a small village Chingus on a nallah on the main National Highway of Jammu –Poonch, some 154 Kilometers from main Jammu and 35 Kilometers from Rajouri. This National Highway which leads to Kashmir valley joins through Mughul Road at Buffliaz.

The ancient Chingus sarai dating back to 16 th century AD was used by the Mughals as the transit camp during their annual entourage to Kashmir.Chingus derives its name from the Persian name 'Chingun' which means 'Intestines' as Mughal saraiof chingus is historically renowned for containing mortal remains of Mughal Emperor Jehangir who died on way from Kashmir to Delhi 1627 A.D. It is believed that in order to avoid war of succession the Empress buried the intestines and other abdominal parts of his body in the fort and made his dead body to sit on the elephant as if he was alive.
From Airport
View Map
From Railway Station
View Map