Explore Jammu Province
---
See Jammu Pilgrimages

Explore Jammu Province
---
Samba District
---
Samba at a Glance
"Land of Rajput Warriors"
Famous as land of Rajput warriors, Samba town is situated on the stream Basantar. Samba was principally established somewhere in 1400 A.D. As per folklore, Malh Dev, the younger son of Rai Saidu of Lakhanpur was the founder of Samba, who married into the family of Ghotar, a local tribesman. After his marriage he stayed at Samba and made himself the master of the tract with Samba as its capital. Samba ultimately came under the supremacy of Jammu, during the period of Hari Dev in 1816 A.D. In 1822, Suchet Singh younger brother of Raja Gulab Singh was made the Raja of Bandralta and Samba. Historically, Samba has been known for its 22 Mandies which were established by Raja Suchet Singh to whom the District also owes the famous Samba fort. In 1846 A.D it was annexed to J&K by Maharaja Gulab Singh making it an integral part of the state.

The district shares the boundaries with district Jammu, Udhampur and Kathua and is equidistant from the said three District headquarters. Samba is the treasure house of ancient monuments. There are many forts namely Mohargarh Fort, Dhergarh Fort, Bhupnergarh fort and Samba Fort having great historical importance.
More Information
| | |
| --- | --- |
| Altitude | 384 mtrs |
| Temperature | |
| Summer | 26.2°C to 4.3°C |
| Winter | 43.0°C to 23.4°C |
| Best Season | October to April (Summer Vacations also attract millions of Tourists) |
| Clothing | Summer: Light Cottons. Winter: Heavy/Medium Wollens |
Getting There
---
How to reach Samba city
Samba being located on the national highway 1A is well connected by all three modes of transport i.e. air, rail and road.

By Air: The nearest airport is at Jammu and is 40 Kms from Jammu. All Airlines operate regular flights to Jammu connecting different cities.

By Rail: Almost all north, south, east and west bound express and superfast trains halt at Samba railway station.

By Road: one can also reach the city by road. National Highway 1A runs through Samba district connecting rest of the state.
Where to Stay:-
A number of hotels are available in Samba District suiting every pocket.
What to see in Samba District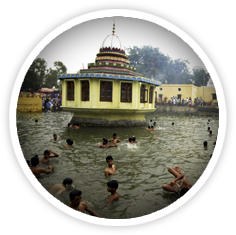 Baba Chamliyal Shrine
The shrine is a glowing example of secularism and inter-religious harmony and is 40 Kms. (appx.) from Jammu and is 17 kms. from Samba town. It is situated on the international border with Pakistan where in a mela is celebrated every year in the memory of Baba Dalip Singh Manhas. The mela at the Shrine is celebrated every year during the months of June-July where devotees all cross the states of J&K, Punjab and Himachal throng in a large number to pay their obeisance. The Shrine is also revered by the Pakistanis who, through their frontier guards offer "Chaadar" at the shrine and in turn collect Shakkar (sacred clay of the shrine area) and Sharbat (water of the shrine's well) which people believe to have healing powers against serious ailments.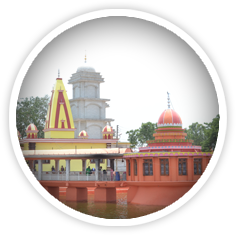 Baba Sidhgoriya Shrine
The holy Shrine of Baba Sidhgorian nath ji is 35 kms from Jammu in Samba at Swankha,. The Shrine is in the memory of Baba Sidhgorian nath Ji, follower of Guru Gorakh nath Ji. Every year during the Mela, thousands of devotees from with in and outside the State throng the shrine.
Shri Narsingh Dev Ji Temple
A centuries old temple of Lord Vishnu situated at distance of only 300 Metres from National Highway at Ghagwal attracts thousands of pilgrims during Navratras and other occasions and is a major tourist attraction of the area.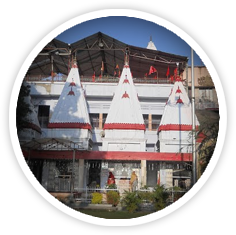 Chichi Mata
According to the legend, the place, where the present day temple exists, the goddess sati's smallest finger fell after she sacrificed herself in Yagya. The mandir is exactly 3 kms from Samba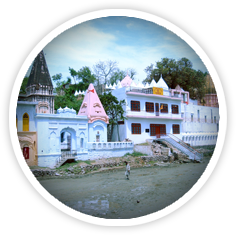 Purmandal & Utterbahni
Purmandal is situated on the banks of the sacred, mostly underground Devak River, is known as "Chotta Kashi", having old Shiva temples which has significant religious importance and surrounded by the Shivalik Hills that possess a natural beauty. Uttarbahni is another religious place situated on the bank of legendary Devika and is having centuries old temples located at a distance of 5 kms from Purmandal.
There are many forts namely Mohargarh Fort, Dhergarh Fort, Bhupnergarh fort and Samba Fort having great historical importance. The gates of Mohargarh fort are still intact. Red sand stone were utilized in its construction. The forts of dhergarh and Bhupnergarh are in dilapidated condition where as Samba Fort is standing tall.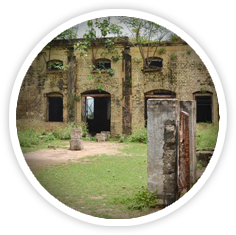 Samba Fort
It is situated on a small hillock half a Km away from NH1A and 37 Kms from Jammu and is in commanding position over looking river Basantar. As per historians, the fort was originally erected by Raja of Mandi, naga Raja Goureoen. The fort was further built by Ranjit Singh in 1822 on the remains of old fort. In 1905, Maharaja Pratap Singh donated this fort to education department for housing a school.
Mansar - Surinsar Lake
The Mansar Lake, situated 22 kms away from Samba is a beautiful lake fringed by forest-covered hills. The Mansar Lake is surrounded by small hills with different Hindu Gods and Goddesses Temples and also attracts a large number of tourists as well as religious pilgrims in the area. Boating in the lake adds spice to the picnickers and tourists. Another attraction here is the Surinsar - Mansar Wildlife sanctuary, named after the two lakes on each corner of it. The sanctuary is spread over an area of 98 sq km and is home to species like the goral, wild boar, barking deer, leopard and a multitude of birds like black partridge, red jungle fowl, peafowl, grey partridge, green pigeon, blue rock pigeon, Rufus turtle, dove etc. Beside these, the forest area also houses some rare species of trees and orchids
---
USP:
Thandi Khui on the National highway is famous from decades among tourists and locals for its Barfi (a type of Sweets) and Tea. Also, the eatries (Dhabas) on the highway serving indigenous and some popular cuisine prepared in local utensils (Sagla) are popular among tourists. The serene environment and large fresh water lake attracts Sunday goers, picnickers and tourists. The sufi shrines and temples of Purmandal/ Uttarbehni are the reknowned centres of pilgrimage. Moreover, the hosts are courteous & extremely hospitable and geographic location of the town is its main USP.