Monuments & Heritage
---
Let's Explore More, Now!

Monuments/Heritage
---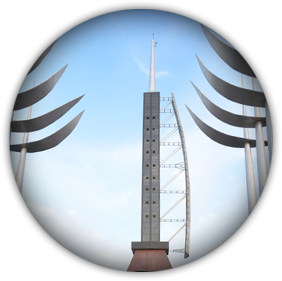 War Memorial (Balidan Stambh)
"The Monument of Sacrifice"
---
The sacred soil of Jammu & Kashmir has been the battleground for several wars and the State has given some of the finest soldiers to the armed forces of the nation. To show eternal gratitude to the martyrs of various wars fought in J&K since independence, the Indian Army conceived a unique war memorial at Bahu Wali Rakh near the historic Bahu Fort and named it 'Balidan Stambh'(the monument of sacrifice) in Jammu.Balidan Stambh is India's first war memorial. Balidan in Hindi means "Sacrifice" and Stambh means a "Pillar". It has a Memorial Pillar constructed in memory of the martyr soldiers. Balidan Stambh is a perfect historical and emotional rendezvous for the people of Jammu region.This Balidan Stambh also epitomises a vibrant linkage of rest of the country with Jammu & Kashmir. It is here that the soul of our fallen heroes will rests in peace. It is located on the way to Bahu fort.