Explore Jammu Province
---
See Jammu Pilgrimages

Explore Jammu Province
---
Rajouri District
---
Rajouri at a Glance
"The Land of Kings"
Rajouri district is located in the Jammu Province flanked by the Poonch district in the north, Jammu district in the south, Reasi district in the east and POK (Pakistan occupied Kashmir, Mirpur) in the West Rajouri.
Rajouri area has great importance in ancient times. In Mahabharata there was a Kingdom known as Panchal Desa. The King of this state was Panchal Naresh whose daughter Dropadi was married to Pandavas. The historians identify Panchal Desa as the Panchal range of mountains. Rajouri was also a part of this kingdom of Panchal Naresh.
In historical perpective, Rajouri town is believed to have evolved from 'Rajouri' literally meaning the land of kings. One finds its mention in the travelogues of Chinese traveller Hiuen Tsang who visited the town in 632 A.D and described it as part of Kashmir. Still earlier, in the Buddhist period it formed a part of Gandhar territory (Afghanistan, Gandhar and Tashkent). Those days Loharakote in Poonch district and Rajouri had emerged as two powerful states of the area.
Early records show that in 4th century B.C, there existed in the north-west of India a federal type of political setup in which Abhisar with its capital at Rajouri was existing. At the time of Alexander's invasion, Rajouri was at the height of its glory. In Maurayan Period the town of Rajouri was a great trade centre.
Similarly Albaurani is recorded to have visited Rajouri with Sultan Masud (Son of Sultan Mehmood) in 1036. Referred to in Kalhans Rajtirangini as Rajour, this name slowly changed into Rajouri . Number of forts, sarais and baradaries were constructed in this beautiful town with the help of Mughal rulers. The remnants of fortified Mughal inns at Nadhpur, Chingus, Rajouri, Fatehpur and Thanamandi are a pleasant reflection of the glorious days of the Royal Mughal entourage proceeding towards Kashmir Valley.
Rajouri town remained the favourite haunt of Mughal rulers on their way to Kashmir. After 1846 Rajouri became a part of the kingdom of Maharaja Gulab singh that consisted of undivided state of Jammu and Kashmir including Ladakh. Rajouri Fort at Dhannidhar near Rajouri town still stands in its ruins as proud relic of the rich historical part of this town.
More Information
Altitude
915 Mtrs.
Temperature
Summer
37.0°C
Winter
7.0°C
Clothing
Summer: Light Cottons. Winter: Heavy/Medium wollens
Getting There
---
How to reach Rajouri City
One can reach the city by road, National Highway 144A runs through Rajouri district connecting Jammu with District Poonch. Famous Mughal Road connecting Jammu Division with Kashmir valley also passes through the Rajouri.
Where to Stay
A number of hotels/lodges, Paying Guest Houses are available in Rajouri suiting every pocket.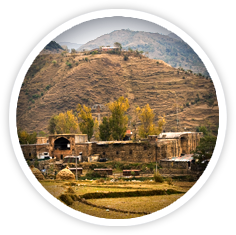 Shahdra Sharief Shrine
One of the most popular Muslim shrines in Jammu, Shahdra-Sharif is situated in Rajouri district and is approximately 177 km from Jammu. The shrine is dedicated to Baba Ghulam Shah Badshah and dates back to the 19th century. Standing atop a beautiful hillock in Thanna Mandi area, 29 km from Rajouri town, Shahdra Sharif has quite a story attached to it. It is believed that Gulab Singh, once the army general of Maharaja Ranjit Singh of Punjab, got this shrine constructed.

As per the historical sources, in 1820 AD, Maharaja Ranjit Singh of Punjab sent his army General, Gulab Singh, to defeat an adversary. However, the general lost most of the soldiers and was left with 25 odd ones. When he was camping at Thanna-Mandi, he came to know about Baba Ghulam Shah 'Badshah' and went to meet him. The Baba, who lived in the nearby locality of Shahdra, looked at him and smiled. On being asked the reason for his smile, he said that he was smiling at the prosperous future of Gulab Singh.

Then the Baba asked him to climb on top of the mountain and look around. He further added that all the places that he can see with his naked eyed today, would be a part of his territory someday. Gulab Singh climbed and saw Jammu, Kashmir, Kishtwar and Tibet. Delighted, Gulab Singh asked Baba to take some Jagir (land) from him. Baba Ghulam Shah Badshah asked him just for the land of Shahdra Sharief in Jammu. Gulab Singh got the land transferred in the name of Baba.

Some time later, the prediction of Baba Ghulam Shah came true and Gulab Sigh became the Maharaja of the State of Jammu and Kashmir. After his victory, he again went to visit Baba Ghulam Shah to express his gratitude. However, the Baba had left for the holy abode, by that time. As a mark of his gratitude towards the saint, Gulab Sigh got the shrine of Jammu Shahdra Sharif constructed. Even today, devotees of each and every faith visit this shrine to pay respect to the holy saint.
Mangla Mata Temple
Mangla Mata Dev Asthan is located about 70kms from Rajouri in village Bhawani of Tehsil Nowshera. It was originally located in Hamirpur as Mangal Mai (now in Pakistan). A dam has been constructed by Pakistan under the name of Mangla Dam and it is believed that when the work of Mangla Dam in 1965 AD, in Hamirpur was started by Pakistan and the Dev astan of Mangal Mai came inside the dam, a Brahman of Bhawani village namely Late Pandit Nihal Chand had a dream in which Mangla Mata had given him darshan and asked that She has shifted her asthan from Hamirpur to the forests of Bhawani. After some days, the Brahman came to this place and foud the pindies(a shape of Goddess made by natural rock) of Mangal Mai in the cave. Every year congregation is held on the Navratras in which large number of pilgrims pay their obeisance.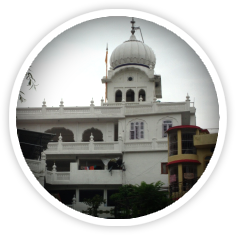 Gurudwara Chatti Patshahi
Bangla Sahib is one of the significant religious spots of Rajouri town. This is a 4-storey building comprising 15 rooms and a pathshala, with 8 rooms. This gurudwara is dedicated to the sixth Sikh Guru, Guru Hargobind Sahib Ji. He is said to have stayed here for a small.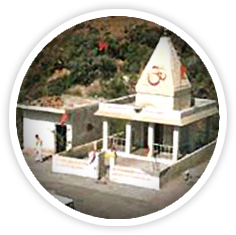 The Manma Mata
Temple is situated on Rajauri Road, 8 km away from Kalakote. This temple is dedicated to Mata Devi. A cave is also located near this shrine which is believed to have been used by Lord Shiva for travelling to Kashmir. It is also believed that Manma Mata Devi herself came to this.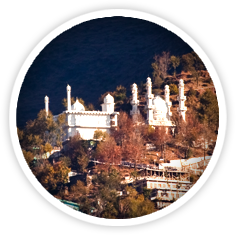 Ziarat Sain Ganji Sahib
Also known as the shrine of Sain Ganji Sahib Qadri, is situated 10 km away from the town of Rajauri and overlooks the Darhal Nala of Jammu and Kashmir. This shrine is dedicated to Sain Ganji Sahib, who was born in a Gujjar family at Fatehpur. Below it is famous Shifa Pani for curing skin diseases.

Panjnara (Ancient Temple Complex):- Panjnara a small village in Tehsil Kalakote (Rajouri), is famous for a magnificent temple locally known as 'Pandu Kund'. It is one of the best preserved temples of Kashmiri architectural style in Jammu province away from the valley. Built in grand dimension, the temple dates back to 9th-10th century A.D and is very similar to Buniyar templend Deltha Mandir in Baramula district. It consists of main shrine, a rectangular peristyle with 55 cells facing to the courtyard and double chambered gateway in the middle of eastern wall.
Peer Badesar
The Peer Badesar is also known as "Veer Vadweshwar", a templeconstructed by King Kanishka in 142 A.D in memory of Veer Vadweshavar, who was the Son of Lord Shiva and bornwhen Lord Shiva threw open His tangled hair (Jata) angrily when Goddess Sati did self-immolation in burning "Kund" in response to the humiliating words said by her father King Daksh against Her husband Lord Shiva in a Havan ceremony. History has it that after taking avenge of humiliation of his mother from king Dakasha, Veer Vadweshavar stayed at Veer Vadweshar village. The place is about 60 kms away from Rajouri town on the border between Rajouri and Pakistan. To visit the temple, prior permission from the District Magistrate required.
Dhani Dhar Fort
In 1819 Maharaja Ranjit Singh while concurring Kashmir captured Rajouri, he appointed Mirza Reheem Ullah Khan as Raja of Rajouri in place of Raja Agar Khan. Raja Raheem Ullah Khan remained governing Rajouri principality up to 1846 under the control of Khalsa Darbar Lahore. On 15th March, 1846, Jammu and Kashmir and Ladhakh was sold by the Britishers to Raja Gulab Singh of Jammu and Kashmir. By this way, the Rajouri principality also came under the jurisdiction of Maharaja Gulab Singh. Since Maharaja was not having good relation with Raja Raheem Ullah Khan of Rajouri, therefore, he directed him to step down.But Raja Raheem Ullah Khan refused to do so. In these circumstances, Maharaja Gulab Singh alongwith his forces reached Rajouri and dismissed Raja Raheem Ullah Khan and his administration and on 26th of October, 1846,Raja Raheem Ullah Khanwascompelled to leave principality alongwith his family and reletics. Then Maharaja Gulab Singh appointed Mian Hathu the Governor of Rajouri. Mian Hathu governed Rajouri from 1846-1856 AD. In this very period, he started the construction of Dhannidhar Fort. He used the stones and material in the construction of Fort of those buildings which were belonging to Jaral Rajas and destroyed during the invasion of Maharaja Ranjit Singh on Kashmir. The Fort was completed in 1855AD. The main intention for the construction of the Fort was to keep Dogra Forces in this safer place because from this place, the whole Valley of Rajouri could be viewed. Apart from this during the Dogra regime, the revenue was collected from the farmers in the shape of grains and this grain was dumped in this Fort which was sold later on. This Fort has been used by the defense in the past.
Mangal Dei Fort
This splendid Fort is located on an arduous uphill in Mangal Dei village about 18kms away from Nowshera town. It is one of the largest Fort in District Rajouri which has a modern temple of Mangla Mata.
Chingus Fort
The ancient Chingus sarai dating back to 16th century A.D was used by the Mughals as the transit camp during their annual entourage to Kashmir and vice versa. The term "Chingus" derives its name from the Persian word "Chingun" which means "intestines" as it is believeds that the Mughal sarai at Chingus contains themortal remains (intestines) of the Mughal Emperor Jahangir who died on way from Kashmir to Delhi in 1627 A.D.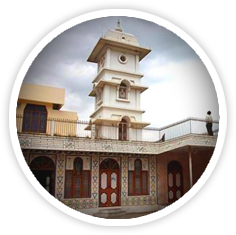 Balidan Bhawan, Rajouri
This Bhawanis a memoir of great sacrifices made by the people of Rajouri during the (1947-48) war. Every year on the eve of Diwali and Baisakhi, people from all walks of society assemble in Balidan Bhawan to pay homage to the brave freedom fighters.
Hall of Fame
The foundation stone of Hall of Fame was laid down by Lt. Gen S.P Malhotra, PVSM, the then GOC-in-C North command in commemoration of the heroic sacrifice of soldiers during war of 1947 A.D, 1965 A.D, and 1971 A.D. It is a living monument of bravery and sacrifice. A beautifulreplica of Indian Soldiers fixing Indian tri-color on enemy's post is a major attraction fir Tourists.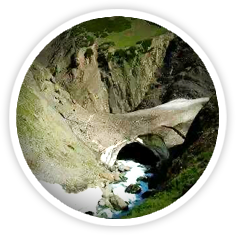 Thanamandi Sarai
This is an important historical place right from the time of Mughals, who used to stay there during their journey from Delhi to Kashmir and vice-versa. An old Mughal Sarai still exists there which speaks of its glorious time. The climate of this place is very charming and in fact is a health resort. It is also famous for its artistic wooden products. The famous Shrine of Shahdara Sharief is just 6-7 kms from this place.
Lah Wali Bawli
At about 20 kms from Rajouri, on the Rajouri-Thannamandi road this spring of fresh water abounds with fish. It is believed that the spring is linked underground with the lake NANDANSAR at the top of Pir Panjal. In case proper attention is given to the beautiful scenic spot, it can prove more attractive than Cheshma Shahi of Kashmir.
Darhal
In the northeast of Rajouri town, at a distance of 25 kms. Darhal, a bowl shaped valley surrounded by gentle sloping mountains on all sides, is situated. Nature seems to have carved a stadium for the prospective sport lovers, who could be attracted here in thousands,if sport facilities were created. Enroute to Darhal is the Khanghah of Sain Ganj Baba, which accords religious importance to this area. The perennial flow of limpid water in Darhal Tawi adds more charm to its beauty.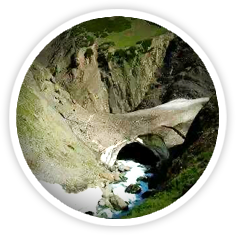 Thanamandi
This is an important historical place right from the time of Mughals, who used to stay there during their journey from Delhi to Kashmir and vice-versa. An old Mughal Sarai still exists there which speaks of its glorious time. The climate of this place is very charming and in fact is a health resort. It is also famous for its artistic wooden products. The famous Shrine of Shahdara Sharief is just 6-7 kms from this place.
Tatapani
Tatapani is famous for Hot-water sulphur spring which has medicinal property to cure bone, joint and skin ailment. It is located about 35km away from Rajouri town and about 110 km from Jammu. A tourist Dormitory is also available here for stay of visitors.
Other famous lakes of the area are as under:
Konsar Nag
Chamar Sar
Katori Sar In Bela Marg
---
USP:
The uniqueness of Rajouri ranges from lofty mountains, numerous hills and small valley of meandering brooks, mighty Himalyas with their snow capped virginity, the immense wealth of flora and fauna and its breathtaking charms dominating the landscape, the region is any nature lover's delight, as nicknamed Mini Kashmir.

Rajouri is famous for the shrine of Baba Ghulam Shah Badshah where the pilgrims from all walk of life visit. More than 10 lac pilgrim visit the shrine every year which includes within state, outside state and foreigners.

Baba Ghulam Shah Badshah University, institute of high learning is in Rajouri District where students from different part of state study.

Tatapani, a famous hot water Sulphur spring having medicinal property to cure bone, joint & skin ailments is in Kalakote area of Rajouri.

Coal (semi anthracitic) in rank is extracted from the Kalakote coal fields. The coal is of generally high heat value. Wood Carving Craft is famous in Shahdra Sharief, wooden Kitchen utensils,wooden Comb and toys are available.