Explore Jammu Province
---
See Jammu Pilgrimages

Explore Jammu Province
---
Border Circut
---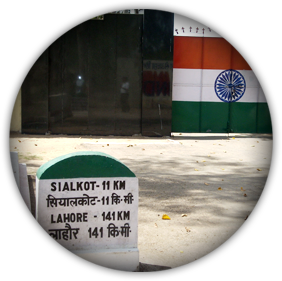 Suchetgarh
Suchetgarh border post, has been developed as a tourism spot by the state tourism department. The Suchetgarh Border post is 28 kms from main Jammu. The road to Nai Basti-Gulabgarh from Jammu follows the train route as it existed prior to 1947 and a number of old buildings can be seen on the way.. Suchetgarh Post served as the route to Sialkot during the pre-partition era, which is just 11 kms from the post and earlier there was an Octroi post at this point. On the other side of the border post lies a spectacular Banyan Tree, which is as old as 100 years. In close vicinity are the "Gharana and Abdullian wet lands where migratory birds of a number of varieties flock during winter season.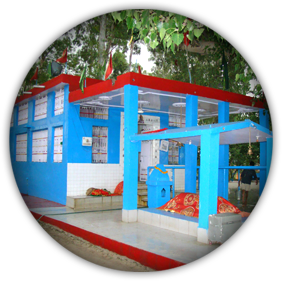 Baba Chamliyal
The Shrine of Baba Chamliyal is located in the Samba district of Jammu and Kashmir, 40 Kms from Jammu. Every year a three-day trans-border fair is held amidst the traditional religious chanting and beats of drums at Chamliyal, which is less than 200 meters away from the International border.
The Samadhi of Baba Chamliyal is housed in a beautiful shrine under the shade of a mighty pipal tree. The main Shrine is flanked at the entrance by two samadhis of two devotees of Baba. Water drawn from a well in the premises considered as 'sharbat' by the followers. Soil from an adjacent Talab (pond) which has since dried up is dug up is considered as 'shakkar' by the devotees. The sharbat and shakkar are mixed together and applied by those affected with skin diseases for their cure.
Legend Of Baba Chamliyal Mela
The shrine is in the memory of great saint Baba Dilip Singh Manhas known as Baba Chamliyal. Baba Chamliyal was very popular and respected among villagers of the area. Some anti social elements were not happy with the popularity of Baba Chamliyal. One day they called to Baba in Village Saidawali (500 mtrs south from shrine and presently in Pakistan) and beheaded him. His body fell down in village Saidawali and his head is said to have reached at village Chamliyal due to his spiritual power and fell at the present location. The head of Baba was buried here and a monument was made upon it. The Body of Baba was buried in Saidawali and a monument was made there also. The devotees of both the countries visit these monuments in their countries. It is said that one of the follower of Baba Ji was suffering from skin disease since long time. Baba came in his dream and told him to apply soil (SHAKAR) and water (SHARBAT) to the whole body daily for some days. That follower was completely cured after few days. Since then the name of Baba Chamliyal came into prominance. Devotees of Baba from all religion come to this place for darshan and those are suffering from skin disease stay here for treatment with Shakkar and Sharbat and return back completely cured.
Every year on the fourth Thursday of June a mela is held at this place to commemorate the martyrdom of Baba Chamliyal. This mela is organized in Pakistan also. On this day Pakistani devotees of Baba present a Chadar for the monument of Baba which is received by BSF at the Border and in return BSF hands over Shakar and Sharbat to the Pakistan Rangers for devotees on the either side.
Lakhs of devotees from Jammu and Kashmir as well as neighboring states of Punjab and Himachal Pradesh pay obeisance at the shrine of Baba situated in the surrounding fields around the Shrine. Local fairs, ethnic food stalls are main attraction of the mela.
Facilities- BSF provides free langar and accommodation for devotees who visit Baba Chamliyal Shrine for treatment.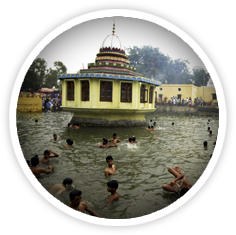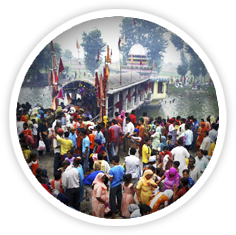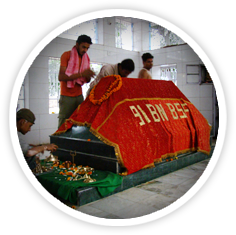 Getting There
---